Introducing RoomMate: A Proactive Solution in Preventing Falls in the UK Market
Sensio
Oct 4, 2023 11:30:30 AM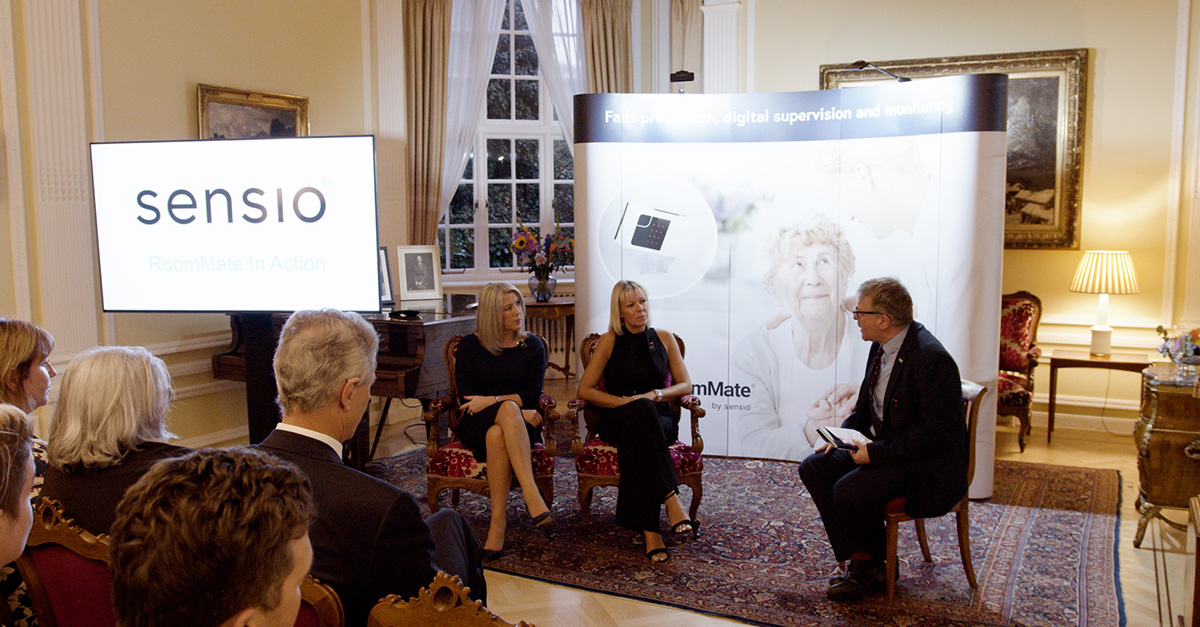 With a commitment to revolutionising healthcare provision through technology, we at Sensio proudly announced the UK launch of our groundbreaking RoomMate sensor on Wednesday, 27th September 2023. Tore Hattrem, the Norwegian Ambassador to the UK, graciously hosted us at the Norwegian Ambassador's Residence for a wonderful evening of celebration and rich, insightful discussions.
A Night of Honouring Care and Innovation
Sensio has always been synonymous with innovation, especially when it involves care for the elderly and vulnerable. The launch event was not just a product introduction but a celebration of tireless healthcare workers, an homage to innovation, and an expression of our ongoing commitment to uplift and enhance the care sector through technological advancements.
Our pilot partners, Dormy Care Communities, Hartford Care, and Hamberley Care Homes, who have been instrumental in bringing RoomMate to life, were rightfully at the forefront of this evening. The collective months of diligent work, testing, and feedback from these partnerships have been pivotal in refining our RoomMate offering within the UK and ensuring it truly meets the needs of care providers across the country.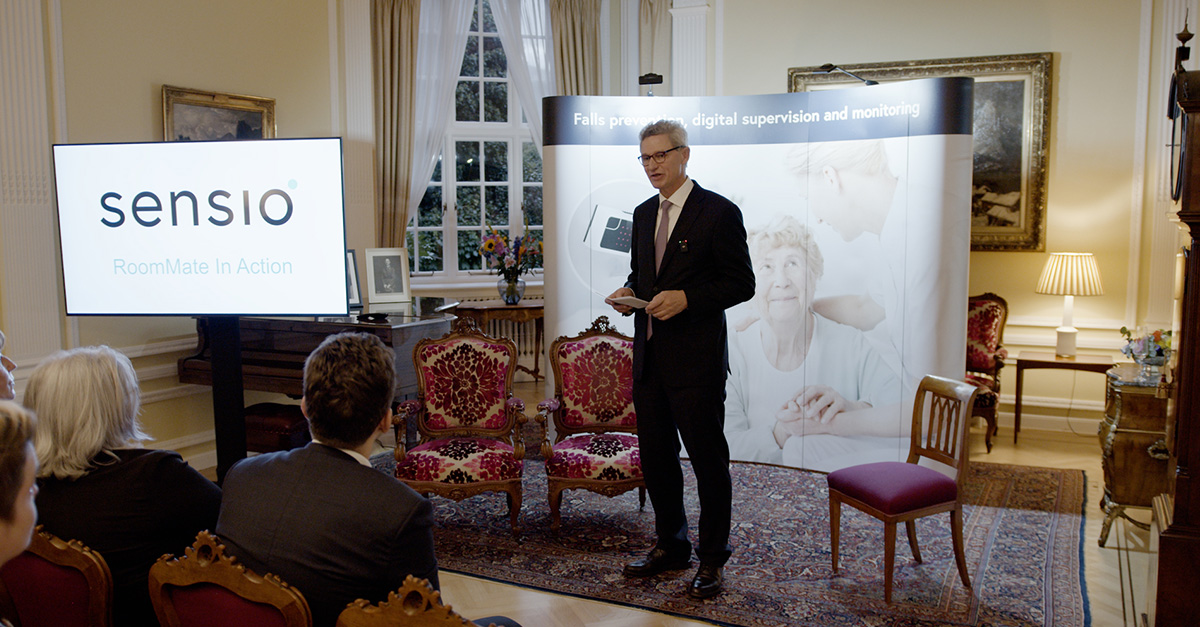 Impactful Conversations with Our Users
The fireside chat, expertly hosted by Daniel Casson, brought forth the real-world impact RoomMate has been having in care homes.
Watch the video of the full fireside chat below in this article.
Helen Davies-Parsons, CEO of Dormy Care, underscored the proactive nature of RoomMate, stating, "There are lots of systems out there that will only react; they will tell you when someone is already down. RoomMate picks things up before that happens. We're being proactive in using this system rather than reactive." Helen went on to outline further examples of times the RoomMate sensor has intercepted a fall, not only alerting care teams to what was happening in real-time but also highlighting what was causing those falls and leading to revised care plans that have improved residents' quality of life.
Further echoing the pivotal role of RoomMate, Nicky Barnes, Quality Director at Hartford Care, highlighted, "RoomMate gives our night staff peace of mind... We're not disturbing people at night anymore, which has given residents their independence back, as they can now be checked remotely." This reflection helps paint the picture of how technology can seamlessly weave into the daily routines of care, ensuring safety while preserving the dignity and independence of residents.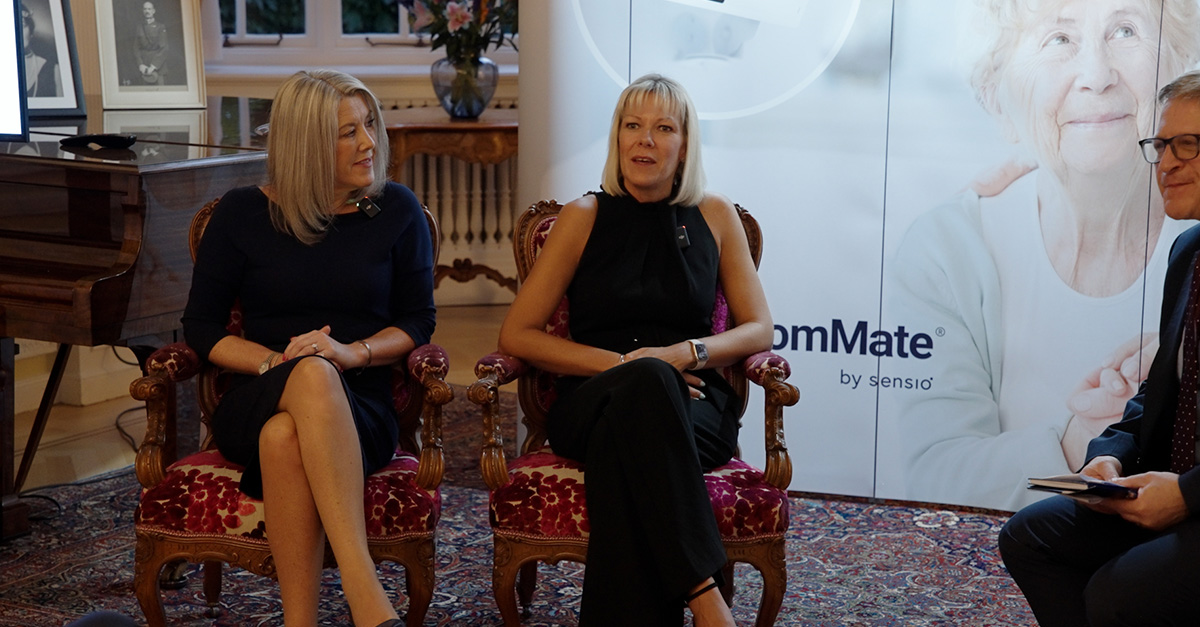 Moving Forward with RoomMate
The stories shared during the evening were not only heartfelt but also shed light on the tangible difference RoomMate is making in the everyday lives of both care teams and residents. In the upcoming weeks, we will share more of these stories, unveiling the depth and breadth of RoomMate's impact since its introduction to the UK in early 2023.
We invite you to enjoy the narratives and discussions from our launch evening. We have included a video of the full fireside chat for you here below, offering a deeper dive into the discussions that shaped the night and exploring the efficacy and impact of RoomMate in the care homes of our pilot partners.
Free webinar: Falls in UK Care Homes - how to prevent them
Interested in hearing more? Join our free webinar about Falls in UK care homes - and how to prevent them.
Video of the fireside chat
The video contains the following:
00:00-04:10 - An introduction from the Norwegian Ambassador, Tore Hattrem
04:10-05:00 - An introduction by the events moderator, Health Tech Consultant Daniel Casson
05:00-09:10 - Customer stories from Dormy Care Communities, Hartford Care and Hamberley Care Homes
09:10-28:40 - Fireside chat with CEO at Dormy Care Communities Helen Davies-Parsons and Quality Director at Hartford Care Nicky Barnes, moderated by Daniel Casson