Hartford Care reduces falls with revolutionary safety sensor
Falls are one of the biggest challenges in elderly care. Hartford Care was the first care home in the UK to trial a pioneering technology to reduce falls. What are their experiences a couple of months after implementing the technology?
Hartford Care is a top 20 mid-size care home group in the UK, and an innovator in using modern technology to take best possible care of its residents. They are always on the search for solutions that can improve the life of both residents and care staff.
Falls constitues on of the biggest risks at Hartford
One of their biggest challenges, which also applies for the elderly care in the rest of the UK, are falls.
- The impact of a fall for a resident is huge, and if you fall once, chances are high that you will fall again. We have tried various things to reduce falls, like sensor mats taped to the floor and other alarms fitted into the beds, explains Michelle Presdee, home manager at Hartford Court, a 60-bed care home in the Hartford Care group, situated in Portsmouth.
But sensor mats were of poor quality and were quickly broken, they didn't look very nice being all over the floor, and also some of the residents tried to avoid the mats as they found them uncomfortable, creating extra acrobatics for them and then again more dangerous situations.
So, when Hartford Court early in 2023 got the chance to pilot a revolutionary falls sensor called "RoomMate", new in the UK but market leader in the care tech mature Nordics, they had no hesitation to go ahead and install it in all 60 rooms.
"We are very confident that RoomMate has prevented falls here at Hartford Court."
Michelle Presdee, Home Manager
Anonymous digital supervision
The RoomMate sensor sends out infrared light and reads the room anonymously. It then automatically sends notifications to the care homes alarm system and the staffs handhelds, if any potentially hazardous situations happen, like the resident being upright in bed, leaving their bed, opening doors, falling or calling out for help. All of this without the residents wearing any devices, and all individually customizable for each resident in each room.
When an alarm triggers, the care staff is able to do an anonymous digital supervision of the room through their handhelds, to see if the situation is under control, or if they have to immediately take action and assist the resident.
- We are very confident that RoomMate has prevented falls here at Hartford Court, and we are now also able to react very quickly if a resident falls, so that he or she gets help as soon as possible, says Michelle.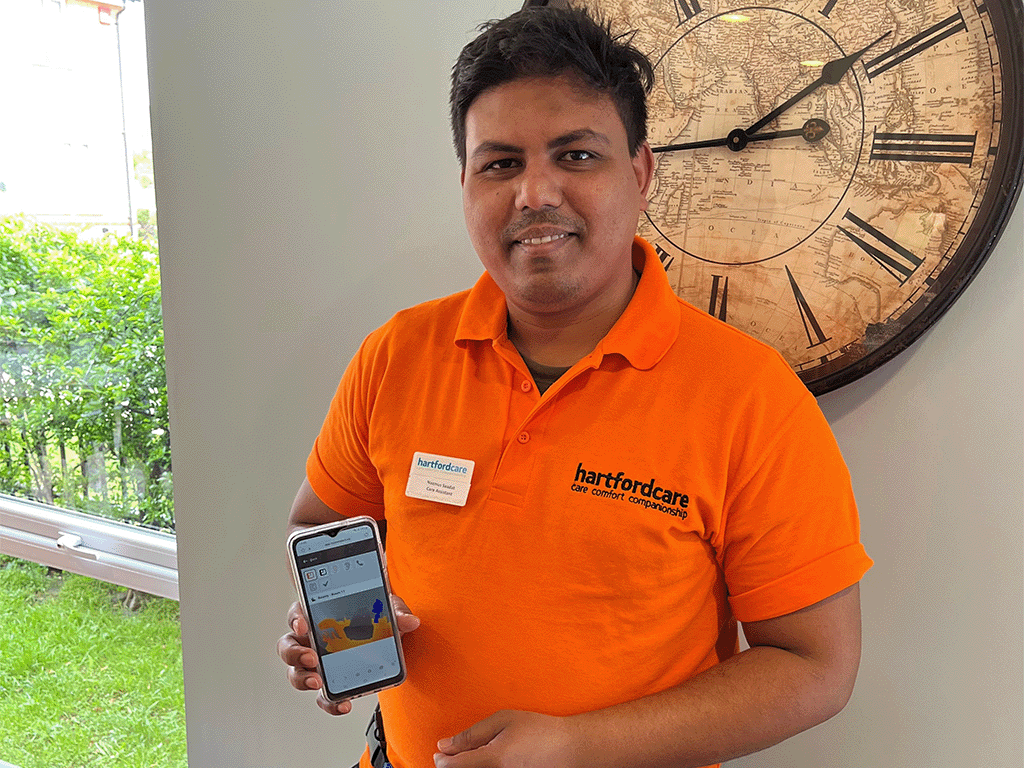 Care assistant Nazmus Saadat shows how a remote digital supervision of a resident is done on a hand held.
A new way of working
As with all new technologies and changes to regular work processes, it has taken some time to utilize the full potential of the system, but things are fast improving.
- RoomMate requires a technical set-up and enables a new way of working. It took some time to understand the system fully and build the trust among our staff to rely on it. But once you get used to it, it provides great value and the outcome is very positive, says Michelle.
Sensio assisted in setting up the system, and the home manager at Hartford Court talks about a supportive and friendly team.
- Sensio are very helpful and always answer any questions. It was a bit difficult when they were primarily Nordic-based, but now that they also have permanent presence in the UK, it has helped a lot. The last training they gave locally, has really boosted our staffs confidence in using RoomMate, Michelle explains.
One thing is how the care staff find the new technology, but at least as important is what the residents think.
- There were some concerns from the residents that they would be monitored. They were afraid to be digitally supervised. But it didn't take long for that to change. We showed them how RoomMate anonymize the picture, and how fast we could come to assist them if they needed help. That made both them and their next of kin secure, says Michelle.
She emphasizes that they only do digital supervisions when an alarm triggers and there is no continuous supervision through RoomMate. Also, she finds the RoomMate-technology much less intrusive than floor mats and other alarms.
- When a floor mat alarm goes off, the care staff will typically run into the room to assist the resident. That is much more invading than being able to do a quick digital supervision through RoomMate, before deciding if the resident needs help or not. So, RoomMate provides better privacy than traditional alarms, thinks Michelle.
Fewer falls and faster help
Are there any lessons learned and advice she would give to other care homes that would be interested in trying RoomMate?
- Be sure to do a properly implementation and training of all superusers and care staff and make sure that everybody understand what RoomMate can and cannot do. Continuously push it and remind staff that they have to use it, even though it may feel unaccustomed in the beginning. The gain with fewer falls and faster help for the residents will be worth it, she ensures.
Michelle Presdee is in no doubt what they want to do going forward at Hartford.
- We absolutely want to continue to use RoomMate. The more we use it, the more we see how we can improve even further for the benefit of both residents and care staff, she says.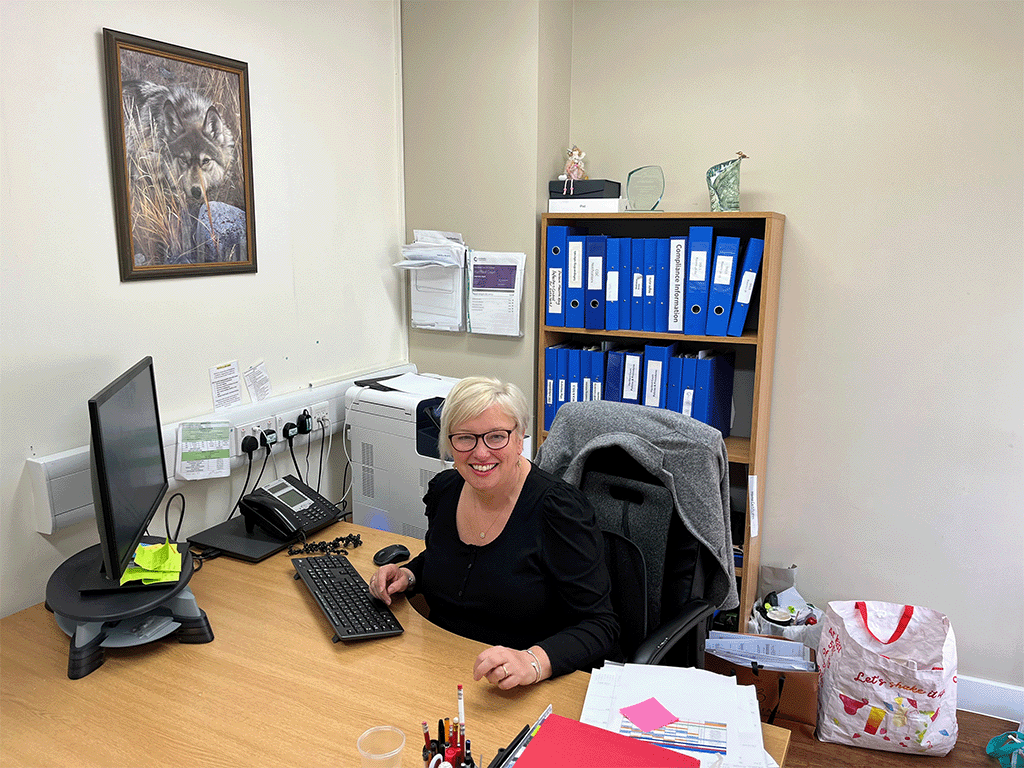 Michelle Presdee sees a lot of benefits using RoomMate.
We support you all the way
We ensure good implementation, training, and ongoing operation so that you are confident in Sensio's welfare technology. Together we create #MoreTimeForCare